WATCH Theresa Demarest and Good Company Band Members in Memorium
WATCH Tim Ellis Memorial Video
---
Keeping in Sync with Good Company
Adding world class sizzle and spice to Theresa's stellar musical story-telling talent, Good Company was comprised of some of Portland's finest and most gifted musicians.  This unique and multi-dimensional group provided the auditory tapestry, upon which Theresa spins her magical tales.
Good Company Time
During Live Concert performances Theresa often steped off the stage to allow the stellar members of Good Company to take their turn in the spotlight and do whatever they felt like doing that night, and some of the best recordings came of this. One night in particular, Myrtle Brown along with Janice Scroggins and Linda Hornbuckle performed a most outstanding version of a James & Jean Cheatham piece called "Meet Me with Your Black Drawers On".  Janice Scroggins at a previous PCPA Concert with Theresa Demarest & Good Company performed and exquisite version of her original song titled "She Arose".
The band's outstanding line-up over the years included:
Janice Scroggins | Myrtle Brown | Linda Hornbuckle | Tim Ellis | Renato Caranto | Dennis Springer | Jimmy Solberg | Jeff Cumpston | Dick Sanders | Chata Addy | Carlton Jackson | Byron Mercurius | Ward Griffiths
---
JANICE SCROGGINS – Piano & Keyboard
I met Janice Scroggins after the release of my CD BEIN' WHO YOU ARE. The piano player in my band couldn't do this fantastic concert with us at the Portland Center for the Performing Arts, and on short notice, recommended a new keyboardist in town, Janice Scroggins. With Janice, I re-discovered first hand that music can create psychic connection between both musician and audience. She has learned to read other musicians and if you trust her, she can take you to an unexpected place. Ever since I met and performed with her, I have been bathed in a long fantastic moment of music's creative grace. Janice Scroggins is a world traveler and brings to her sessions with other musicians a classic mix of the universal; from ragtime to jazz, folk to funk, blues to country. Her credits include opening for Bill Cosby, BB King, Ray Charles; performing and recording with Eddie Harris, Bennie Maupin, and Javon Jackson.
BIOGRAPHY
I am originally from Idabel Oklahoma, via Oakland California. Now I am living with my family in Portland, Oregon. I come from a musical family, raised with Gospel, Classical, Movie Themes, Blues, etc. I've had the good fortune of playing any type of music I want to with great artists. My recording, titled JANICE SCROGGINS PLAYS SCOTT JOPLIN, released in 1987, was nominated for a GRAMMY AWARD in 1988. I was inducted in the Cascade Blues Association Hall of Fame in Portland, Oregon in 1992 for "BLUES PIANO". I got a chance to record with my all time favorite jazz saxophonist, Eddie Harris, titled VEXATIOUS PROGRESSIONS, Flying Heart Records, 1994 and received 4 1/2 stars (****1/2) from DOWNBEAT MAGAZINE (OCTOBER 1996 ISSUE.) I have three original songs on the CD titled CENTRAL AVENUE ROOTS (Artist: Akbar Depriest), produced by Bennie Maupin released APRIL 1996. I have also recorded and arranged some of the music on THERESA DEMAREST'S latest CD MOON RISING (SEPT 1996).
DISCOGRAPHY
The Esquires The Esquires, Flying Heart Records
The Esquires Whatacha Got, Flying Heart Records
Tom McFarland, Just in From Portland
Janice Scroggins Plays Scott Joplin, Flying Heart Records
Lloyd Jones, Small Potatoes
Criminal Records, Norman Sylvester
On the Right Track, Boogie Cats Productions
Terry Robb Jelly Behind The Sun
Paulette & Power It's About Dam Time, Rowdy Red-head Records (1995)
Linda Hornbuckle Soul Diva Meets the Blues Monsters, Criminal Records
Eddie Harris Vexatious Progression, Flying Heart Records (1994)
Theresa Demarest Moon Rising, Joshua Records (1996)
Akbar Depriest Roots Central Avenue (1996)
Paul Delay Ocean of Tears, Evidence Music Inc. (1996)
THE BRIDGE VOL. 1 REGIONAL ARTS & CULTURE COUNCIL
 

Release (1993)

Scroggins/Depriest GOD REST YE MERRY GENTLEMAN Original arrangement by Janice Scroggins Vocalist Mario DePriest Javon Jackson
THEATER PRODUCTIONS
Portland Black Repertory Theater:
Colored Girls
Red Beans & Rice
Potolo
Resurrection of Lady Luster
Civic Theater:
Ain' Misbehavin'
Interstate Firehouse Cultural Center:
The Colored Museum
OPENINGS
Opened for Bill Cosby, BB King, Ray Charles, Robert Cray, Billy Eckstine, Taj Mahal.
Janice was an amazing artist and friend. She is deeply missed.

---
MYRTLE BROWN – Background Vocals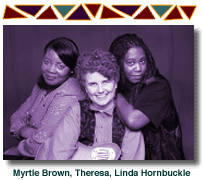 Myrtle Brown has injected life and humor into our sessions, and hence the almost title of this CD "FUNKY FOLK/BLUES DIVAS" WITH JAZZ CATS FACING NORTHEAST. Her vocal performance and talent Myrtle Brown, Linda Hornbuckle, Theresa Demarest is no accident. Myrtle Brown has been fronting her own band and performing in the Pacific North west since 1969. Her style of singing ranges from soft Jazz and Blues ballads to funky R&B.
---
LINDA HORNBUCKLE – Background Vocals
Linda Hornbuckle has been thrilling audiences with her incredible vocal talent in the NW, Europe, Canada and across the U.S.A. Her list of credits include appearances at the Mt Hood International Festival of Jazz (Or), Bumpershoot (Wa), opening for the Temptations & Four Tops, & guest of the Today Show NBC. She is currently launching her own career as a Solo Act, while continuing to lend her outstanding vocal talent in support of her fellow musicians. Her appearance on this CD is pure joy, adding new meaning to Theresa's version of FOLK FUSION in a way only Linda Hornbuckle could.
Linda was an amazing artist and friend. She is deeply missed.

---
TIM ELLIS – Lead Guitar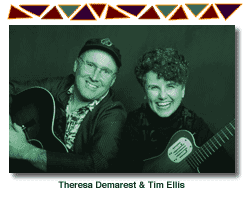 Tim has been a professional musician since the age of thirteen. He performed and/or recorded with Rock and Roll Hall of Famer Spencer Davis, The Platters, The Ink Spots, 80's popster Tommy Tutone, country stars Mac Davis and Larry Gatlin, and others. He's performed with award-winning composer Fred Karlin at the Shrine Auditorium in Los Angeles with Bill Conte and the Academy Awards Orchestra, the Beach Boys featuring Al Jardine, Wilson Phillips, and Dennis Dragun of The Captain and Tennille.
Tim worked with Polygram Recording artists Val Gardena and Windham Hill Recording artists Jeff Johnson and Brian Dunning. Tim records and performs regularly with Jim Walker as well as local favorites Craig Carothers, Tom Grant, Mary Kadderly, Michael Allen Harrison, and John Nilsen. He shared the stage with Tom Petty, Robben Ford, Jefferson Starship, Paula Cole, Jonatha Brooke, Michael MacDonald, and Robert Cray.
Tim composed music for film and video. His work includes a PBS/Frontline documentary THE EXECUTION, national advertising spots for Microsoft, Intel, Nike, and long form video work with CMDevelopment. As a producer, Tim worked with Jesus Presley, The Countrypolitans, Toni Land, Lilith Fair performer Stephanie Schneiderman and keyboardist Robert O'Hearn. Tim was a partner and integral part of the recording facility Kung Fu Bakery Recording located in Portland. His performances visited with you long after the song is over.
Tim was an amazing artist and friend. He is deeply missed.

---
RENATO CARANTO – Saxaphone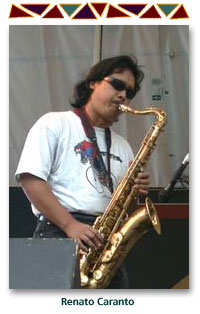 Renato Caranto is one of the finest Sax players in the Pacific Northwest. His awards record alone only hints at the incredible talent of this stellar musician.
Muddy Awards – Named in honor of one of Blues music's most influential forces, McKinley Morganfield, or Muddy Waters, the Cascade Blues Association's annual Muddy Awards Celebration honors local, regional, national and international stars of the blues. Every September, the Cascade Blues Association solicits award nominations from the CBA Membership. The top three nominations in each category are used to form the official Muddys Ballots. In October, the ballots are mailed out to the CBA Membership. The votes are tabulated in time for the November General Meeting, where the winners are announced. Over 1,000 CBA members participate in the Muddy Awards process, making it one of the most prestigious blues awards in the world.
AWARDS
1994 Best Horns (Tied w/ Patrick Lamb)
1995 Best Horns
1997 Best Horns
1998 Best Horns
1999 Best Horns
1999 Inducted into the CBA Hall of Fame for Best Horns
2000 Best Horns
---
DENNIS SPRINGER – Saxophone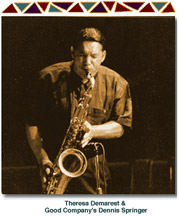 Dennis Springer's, commanding technique and eloquent style has earned him the recognition and respect of the like of Brandford Marsalis and Jeff Lorber. His love of traditional Jazz combines with his ability to display versatility in his performance history from Acoustic Jazz and Funk, to Neo-Folk and Blues. His contribution on these compositions is an exquisite feast of smooth and delicate to all out "Sizzlin".
---
JIMMY SOLBERG – Bass
Jimmy Solberg has been heavily involved in numerous studio recording projects including Theresa's previous CD release titled 'BEIN' WHO YOU ARE' and LP release titled Jimmy Solberg and Jeff Add to dictionary'. He has performed in concert with the likes of BB King, Robert Cray, Bonnie Raitt, and Etta James. His music experience ranges from Rock, Rhythm & Blues to Country & Folk.
---
JEFF CUMPSTON – Bass
Jeff Cumpston brings his dynamic history of jazz, pop, symphonic, rock performances to this CD. He has performed, toured, and recorded with Dan Balmer, John Stowell, Mose Allison, Matt Harris, Steve Christofferson, Nancy King, The Kicks Band, and the Oregon Symphony.
Jeff was an amazing artist and friend. He is deeply missed.
---
DICK SANDERS – Blues Clarinet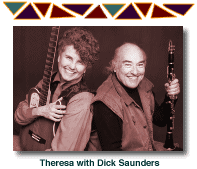 Dick Saunder's warm and masterful playing comes from a lifetime of Jazz & Blues performances that spans the country from New York to LA, from gigs with Jack Jones to Mel Torme, Frank Sinatra, Dennis Day, George Burns, Sammy Davis to name a few. We are honored by his performance on this CD and look forward to the concerts that follow. Thank you Dick.
---
CHATA ADDY – Percussion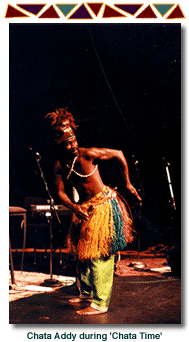 Chata, Percussion & Talking Drum, is a "professional drummer, composer, dancer, teacher and choreographer from Ghana, West Africa and is a member of the world renown ADDY family of musicians and dancers.
He has been performing in front of audiences for over thirty years. His personal rhythms, " which come from inside", says Chata…"adds his own special African touch." Chata has three self-produced recordings titled "SHI DAH", "THE CHILDREN", AND "THIS IS WHAT I FEEL", and has provided tracks on numerous others including King Sunny Ade, "E DIDE."
Since 1996 Chata has been performing in Regional Concert performances with THERESA DEMAREST & GOOD COMPANY as both a featured solo artist and member of GOOD COMPANY.
---
CARLTON JACKSON – Drums

The Los Angeles Times once wrote of Carlton Jackson's drumming as "intensely musical". This description has aptly described him during his long and varied musical career.
His flowing, incisive style, melded with a respect for the inherent tradition within different musical genres, has made him the choice for many projects.
Carlton, a native of Portland Oregon has been associated with other varied areas of the musical world, and continues to be a first call musician in the Performance and recording industry.
His current musical focus surrounds co-leading an 18 piece big bond with talented and prolific composer/arranger Dave Mills in the Portland area. The bond has performed at many prestigious events including the Waterfront Blues Festival, The Mt Hood Festival of Jazz, and The Rose Festival.
Carlton's well-documented work with Pianists Tom Grant and Dan Siegel, guitarists Dan Balmer, Terry Rob, bassist Leroy Vinneger, blues singer Curtis Salgado, composer Jon Newton and Others, have solidified his status as an engaging, versatile performer. His drumming has appeared on feature films, television and radio commercials, while others in the diverse musical community continue to engage him to bring some of his distinctive style to their musical endeavors.
He currently is an endorsee of Vic Firth Sticks and Mallets, Drum Workshop Custom Drums, Allegro Custom Drums and Aquarian Drumheads.
---
BYRON MERCURIUS – Drums
Born in Guyana, South America, Byron Mercurius has been playing music for over 30 years. He began by playing the trumpet, guitar, piano and finally progressed to his current instrument, the trap drum set. He has played with numerous musical groups like Sam & Dave, Cool & the Gang, Rising Lion and has toured the US on many occasions with Reggae, Rock, R&B, and Blues bands. As a studio musician he has laid tracks for Salt & Pepper, Billy Ocean, Keith Diamond, Joylon Skinner, among others. He has extensive experience working with young people teaching them music as a private instructor as well as a conductor of larger youth bands. Byron currently leads his own Portland Reggae band, The Earth Tones, and a jazz ensemble, Byron Mercurius & Friends.
---
WARD GRIFFITHS – Drums
New Jersey native, Ward started playing drums shortly before her 8th birthday, and as a teenager she studied drumset, music theory, and symphonic percussion. She received a BA in music from Wesleyan University, where she was introduced to the rhythms of West African and South Sudian music. During this time, Ward also had the unique opportunity to study with jazz drumming legend Ed Blackwell. After College, she performed in a variety of bands throughout western New England and relocated to Seattle in 1990. Ward set aside her musical interests for the next 8 years to pursue bicycle racing. She moved to Portland in 1999 and is happy to be sitting behind the drumset once again.