A Herd of Two: First Time Horse First Time Owner 2018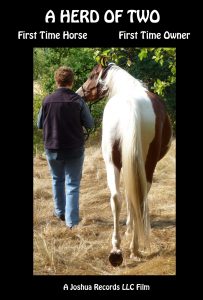 REMASTERED AND RE-EDITED ARCHIVAL FOOTAGE for 2018
Film is presented in 4×3 SD (standard Definition), therefore is best viewed on a smaller screen.
Theresa has never been around horses before. Tehya Takoda, a Half-Arab/Half-Saddlebred filly was only 6 months old when they met. This is the compelling story of their journey to becoming a 'Herd of Two' through Natural Horsemanship.
Watch Tehya and Theresa learn to understand (and survive) each other from the time Tehya was 6 months until 2.5 years old.
A Herd of Two was Theresa's first film, about her unfolding story and relationship with her horse, Tehya Takoda. Watch the first installment of their story. Open, honest, insightful narration from those who helped Theresa "survive" her first horse "ownership" experience. You will fall in love with Tehya and cheer for Theresa.
A Joshua Records LLC Production
Producer: Theresa Demarest
Music: Theresa Demarest
Runtime: 26:17
---
---
Theresa's Film Maker Statement
This is my first film. I didn't set out to buy a horse and make a movie about it. It just… simply put… "happened". I've had a long and satisfying career as a professional musician, concert producer, and songwriter. I have been a cancer survivor twice now, enjoy motorcycling and bicycling, and live a pretty full life. At the time when the seeds of this film were being planted, I was also retiring from a long career in Critical Care Nursing, enjoying some down time, and looking for something fun to do.
I saw this ad in the Sunday paper that read: "Do you love horses, and would you like to learn to ride". I have dreamed about learning to ride horses all of my life. I answered the ad and went out to this barn in Canby Oregon, and out in the field was this brand new Half-Arab/Half-Saddlebred foal, one of the two hottest breeds in the world of horses. At the time, I had no idea what that really meant. I bought her.
Tehya was, and is, stunningly intelligent and beautiful. The second she peeked her head around from behind her mom and looked straight at me, I was smitten, bitten, gone, captivated, and standing mesmerized in a world I knew absolutely nothing about. I was, in short, in for the long haul, instantly engaged in what marked the beginning of a most compelling journey with a little horse whose mighty spirit has changed my life forever.
The film making part evolved from what started out as "oooo look at my horse, isn't she pretty" and quickly transitioned to " oh my god, what have I done!" Horses I would soon learn are prey animals and we humans are predators. So when I show up with my lead rope, with the intention of taking her out of a safe place, I might as well be an alligator inviting her to dinner. When I take her for a walk, and we pass by a green hose laying up against the barn, I see a hose, she sees an anaconda, and responds in the only way a prey animal would. From that first moment I met her to Tehya's first saddling experience, the journey documented in this movie marks the beginning of bringing these two worlds together for one human and one little horse through the 'language and leadership' of what Pat and Linda Parelli call Natural Horsemanship.
A Little More History

Janine Robben of the Portland Tribune summed it up pretty sweet when she wrote: "Theresa Demarest has been a nun…a mother, …single parent, Critical Care RN, cancer survivor… and a motorcycle mama. But, most important, she's a singer with a bluesy-folksy-jazzy voice that picks up the high and low notes of each of her experiences and reproduces them with perfect clarity – like a really great sound system."
Just after the release of my CD titled: 'ROLL ON DOWN' in 2004, I became very ill from lymphedema – a chronic nuisance of a problem left-over from surviving breast cancer twice. Because the ailment could not be ignored, I reluctantly laid down my guitar and the rigors of performing live music.
While recovering, and having never been around horses before, I happened to meet a little 6 month old half-Arabian/half-Saddle redhorse I eventually named Tehya Takoda (Precious Friend). My journey with her was such an incredibly healing experience for both myself and others that I have now released this movie about Tehya and me titled: Herd Of Two (First Time Horse/First Time Owner).
Enjoy the Movie, Enjoy the music!